Monday Morning Birdwalk
(continued from page one)
Host species have developed many defense strategies against brood parasites. These include shifting their breeding season so it does not correspond to that of the parasite; outright attack of the parasite; warning calls; nest concealment; egg discrimination; young discrimination; and removal of the parasitic egg or young. Hosts may employ one or several of these strategies.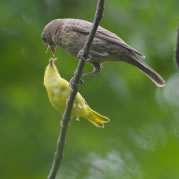 Brood parasitism is one of the most interesting phenomenon in the animal kingdom and demonstrates the amazing relationships animals can have with one another. Let me encourage readers to look into this and other natural behaviors that we might find displeasing or distressing. If we can raise our thinking above simple sentiment and understand the evolution that produced these behaviors, our understanding of nature will be strengthened and heightened.
Harry Glasgow
The Monday Morning Bird Walk has been a weekly event at Huntley Meadows Park since 1985. It takes place every week, rain or shine (except during elec- trical storms, strong winds, or icy trails), at 7AM (8AM from November through March), is free of charge, requires no reservation, and is open to all. Birders meet in the parking lot at the Park's en- trance at 3701 Lockheed Blvd, Alexandria, VA. Questions should be directed to Park staff during normal business hours at (703)768 - 2525.