Park Manager's Message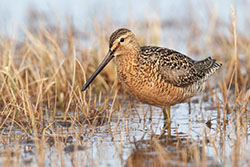 I hope you have been able to visit Huntley Meadows Park and witness the spectacular shorebird activity this season. If you missed it, the Long -billed Dowitcher seems to top the list as a new species record for the Park. (Yes, I'm expecting email comments on this!) Thank you to all the birders who document and report sightings. You play an important role in wetland management.
This season a birding day including five to nine species of observed shorebirds was not uncommon. Amongst the most often seen were Killdeer, Greater Yellow Legs, Lesser Yellowlegs, Solitary Sandpiper, Spotted Sandpiper, Semipalmated Sandpiper, Least Sandpiper, Pectoral Sandpiper, Wilson's Snipe, and very rare for the Park, Stilt Sandpiper and Long-billed Dowitcher.
Increased diversity and abundance of these birds is influenced by the relative attractiveness of the wetland to these species. Thoughtful wetland management and a little luck from Mother Nature with rainfall created these appealing conditions.
Although most of the shorebirds have now moved on, the diversity and abundance of native wetland plants this season will create a profusion of waterfowl food for this winter. With continued luck from Mother Nature and careful wetland management, it could turn out to be a fabulous winter season for these birds. Don't forget your binoculars! (If you do, we have a limited number of binoculars to borrow from the Norma Hoffman Visitor Center.)
Hope to see you at the Park!
Karen Sheffield