Park Manager's Message
Wetlands Are... Dry?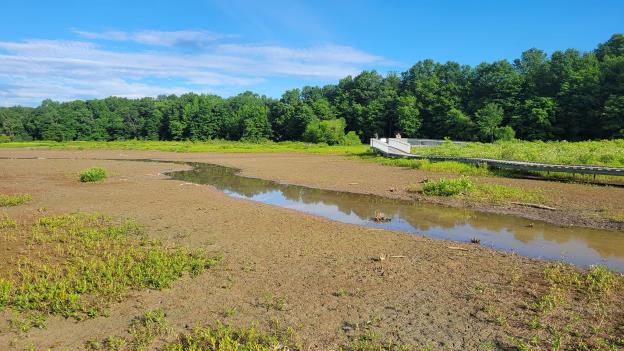 Huntley Meadows Park's (HMP) central wetland is an ecological system that is managed based on scientific data. As a managed hemi-marsh habitat, Huntley's central wetland contains an approximately 50/50 split between emergent vegetation and open water. Hemi-marshes provide habitat for a wide diversity of flora and fauna. Multiple flora and fauna surveys, along with collected weather station data, provide vital information used to guide wetland management plans and decisions.
Management of a hemi-marsh includes annually fluctuating the timing and elevation of seasonal water levels in the wetland to prevent systematically repeated water levels that could potentially favor a specific species over diversity. This managed dynamic cycle supports the amazing diversity of vegetation and wildlife in the Park's wetland.
Over the last several years, large areas of vegetation have been overgrazed in Huntley's wetland. Our naturalists believe that Canada Geese are a significant contributor to the vegetation loss, due to the abundant numbers of geese they have recorded. Dave Lawlor, the Park's previous Natural Resource Manager, began a goose exclosure study in the wetland. You can see in the pictures below the conditions when the exclosures were first installed in 2019 and then again in 2020. The exclosure fencing demonstrates a difference in vegetation growth year on year and in 2020 inside vs. outside of the fence. Of course, these fences would also exclude some other vegetation eating species, like large snapping turtles.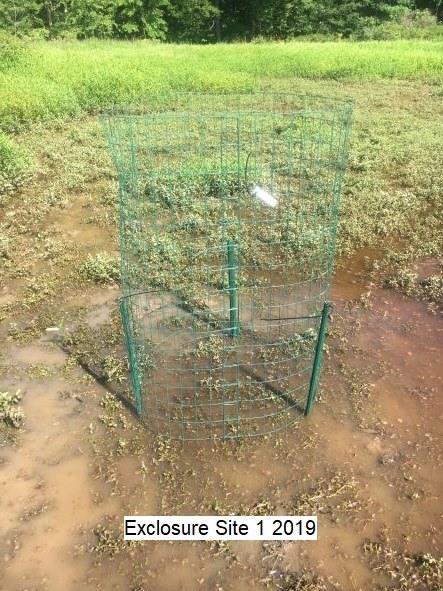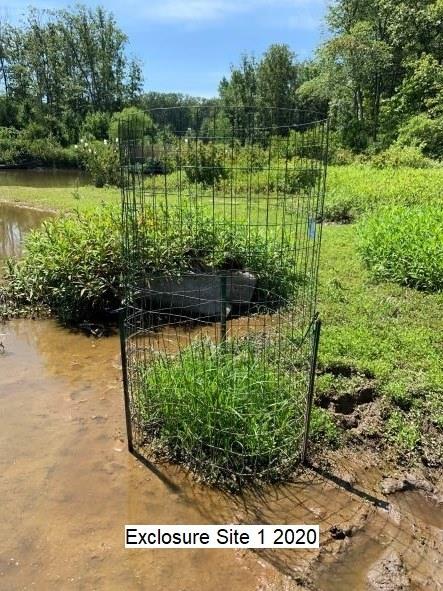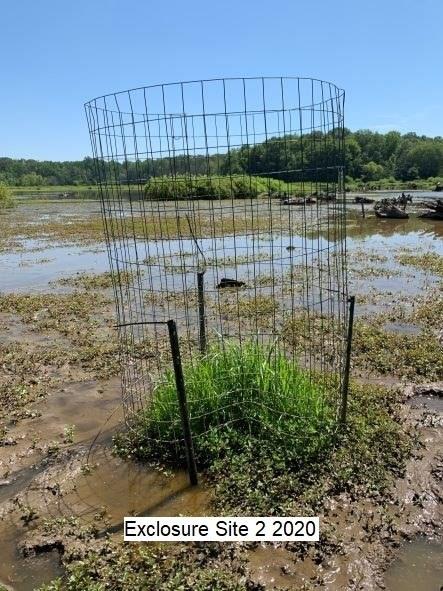 To help combat the overgrazing, staff naturalists planned low water levels in the wetland for this year. Geese prefer the wetland at higher water levels with clear sight lines. Lower water levels, which promote thicker lush vegetation, could suppress the number of geese visiting HMP's wetland. Low water levels encourage plant growth by allowing more air (specifically CO2) to penetrate the soil, fulfilling the plant roots' need to breathe. Dryer soil receives more direct sunlight, which stimulates seed germination, increasing species and total numbers of plants growing in the wetland. Such increases provide more genetic diversity to the plant populations as well as food and cover for our winter waterfowl migrants.
Periods of low wetland water, especially if the soil is exposed, drastically reduce the amount of silt (very small particles of soil) in the water. Silt is especially unwelcomed by any animal using gills to receive oxygen. Slow moving bodies of water like Huntley's wetland quickly drop out large pieces of soil (sand, gravel, etc.), but silt often remains. Dry wetlands force the silt to the wetland floor. The silt then has a chance to dry and solidify, so when the wetland next fills, the silt remains as beneficial soil providing nutrients and stability.
In early summer 2022, the HMP wetland water level was set at its lowest point for this year. Previous to the 2014 Wetland Restoration Project, there was little refuge area in the central wetland during times of low water. At present, when the water level is low, four deeper areas in the wetland provide refuges for aquatic life. These deeper pools were created as part of the Restoration Project. Wetland water levels will begin to rise as we head into fall. Find more information here: https://www.fairfaxcounty.gov/parks/huntley-meadows/wetland-restoration.
A huge thank you goes out to all the wetland volunteers! Without the many volunteers participating in different wetland studies, Park staff would not have the amount of data available to help guide future wetland management decisions. Park staff will continue to manage Huntley's wetland water levels and flora and fauna communities in an attempt to create a robust hemi-marsh habitat that supports a diverse array of wildlife species.
Every day at Huntley is unique… I hope you enjoy your next visit!
Karen Sheffield, HMP Manager