Message from the Interim President
By Ben Jesup
Interim, adj.: temporary, provisional.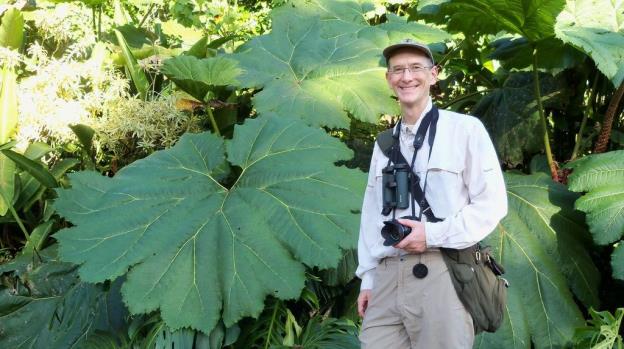 Cathy Ledec, after many years of extraordinary service to Friends of Huntley Meadows Park (FOHMP), has stepped down as FOHMP President and moved from the area. Cathy's energy and determination on behalf of FOHMP has been inspiring to witness. Her leadership was instrumental in all of FOHMP's accomplishments during her tenure. Those accomplishments include:
---
2023 Annual Birdathon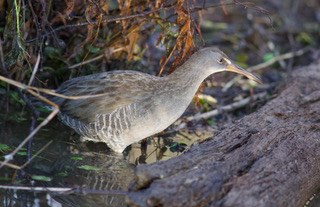 Lindsay Schneider, the 2018 Resource Management (RM) Intern said of her time working with Huntley Meadows Park (HMP) staff and volunteers: "Their wisdom and passion for nature has been inspiring and incredibly beneficial in furthering my understanding of species and their habitats." The 2021 intern Emery Poulsen explained that she "had a wide variety of experiences and played a number of different roles." Learn more about Lindsay's and Emery's experiences by reading their contributions to our 2018 Winter and 2021 Fall newsletters; newsletter archives located HERE.
---
Friends of Huntley Meadows Park
While at a local farmer's market, 6 year old Mackenzie and her 3 and a half year old brother Gavin, spotted an Alex's Lemonade Stand. So inspired by this stand that sells lemonade to raise money to help fight childhood cancers, they wanted to open their own lemonade stand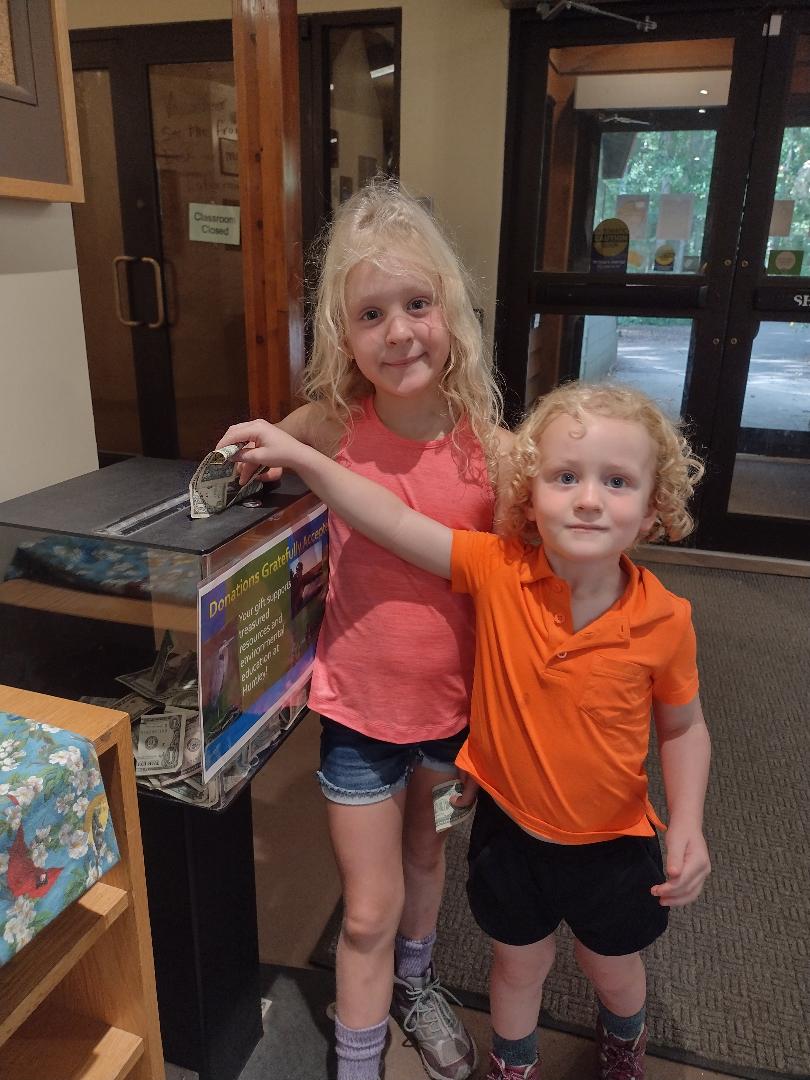 and raise money to help support their favorite wetland... Huntley Meadows Park. They came into the visitor center on Sunday, 8/22 and proudly donated their earnings to the park.
---
Meet the Park's Newest Hire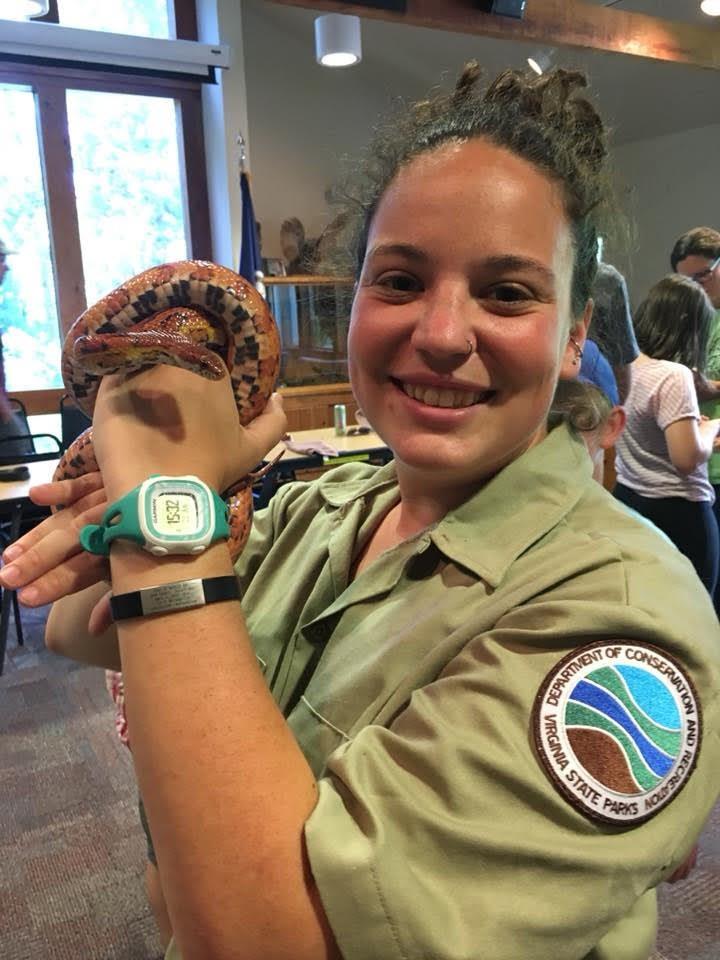 My name is Gina Sando, and I'm so excited to join the Huntley Meadows Park (HMP) team as the new Program Manager/Senior Interpreter (see above photo in which I am holding a Corn Snake). I am no stranger to Fairfax County Park Authority, having worn many hats for three years at Lake Fairfax Park as the Assistant Manager, Volunteer Coordinator, and Lakefront Programmer. I 've been involved in parks and recreation for more than seven years, starting as a Natural Resources Intern at Bear Mountain State Park just north of New York City in 2015.
I worked my way up the ranks across four parks, three agencies, and two internships before arriving at HMP in May. I hold two master's degrees - Environmental Science and Energy Policy and Climate. Outside of work, I run marathons (two so far), am a backpacking enthusiast (my next adventure is the Dolly Sods Wilderness in West Virginia this fall), work on my 2022 reading challenge (I 'm on book #39 of 52!), and love to curl up with my dog while attempting to teach myself to knit and crochet. If you see me around the Park, please don't hesitate to stop and say hello!
---
A New Opportunity
By Dave Lawlor
As many have of you probably heard by now, I recently accepted a new position as an Ecologist with the Natural Resource Management and Protection Branch of the Fairfax County Park Authority (FCPA). I'm sad to be leaving Huntley Meadows Park (HMP), but looking forward to new challenges and the opportunity to continue increasing my knowledge in the field of Natural Resource Management.
---
Much Needed Shade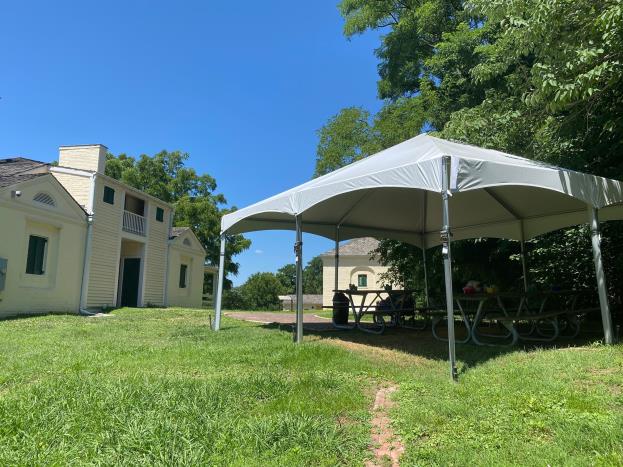 Many thanks from the FOHH to Friends of Huntley Meadows Park for joining us to fund the purchase of a new activity tent (pictured above). It is already in use at Historic Huntley (HH) for summer camp kids and their adult leaders. HH campers complete the majority of their activities under this tent. At the time the photo was taken, campers were walking down to Huntley Meadows Park from HH. Thankfully, they had tented shade to greet them upon their return!
---
Where Does My Contribution Go?
The Friends of Huntley Meadows Park supports a wide range of programs throughout the Park. Your membership dues and donations are critical to the success of our organization.
Some items we fund(ed):
Educate the public and the Fairfax County Park Authority on the impacts of Dominion Virginia Power's proposed changes to the easement at the south boundary of the Park. (See page 2 for details.)
Creation of Huntley Meadows Patches, now on sale in the Norma Hoffman Visitor Center (VC) gift shop.
Scholarships to support three interns for the summer of 2016. These interns will complete much needed programing projects. But most importantly they will assist Staff during day camps that educate and enter-tain our next generation of naturalist and environmental stewards.
Environmental protection apprentice who will study with Park experts to learn best practices for wetland, forest, and meadow management.
Quarterly e-newsletter to keep our 450+ members up-to-date on what is happening at the Park. Newsletter expenses have fallen with our "GO GREEN" initiative to provide more newsletters by email.
Printing of various Park brochures and the frog stickers that adorn so many young visitors.
Specialized training for Staff. This is usually several thousand dollars annually.
School trips for schools throughout Fairfax County and neighboring counties. Kids are our very best ambassadors - we hear from many visitors that their kids visited on a school field trip and wanted to come back to show their families what a special place Huntley Meadows Park is.
A donation to the Raptor Conservancy, one of our biggest entertainers on Wetlands Awareness Day. The contribution is used to feed and care for beautiful birds of prey that can no longer live in the wild.
Generate merchandise to sell in the Visitor Center gift shop, e.g., hats, shirts, magnets, and lapel pins.
Purchase of tools, and supplies for trail restoration, planting, invasive removal, and field studies.
Production of the annual photography show, which celebrates local photographers and their work snapped at the Park.
An ad for FOHMP in the playbill for West Potomac High School's production of Starlight Express. West Potomac students help us each spring with watershed cleanups.
Who We Are
The Friends of Huntley Meadows Park was founded in 1985 and is a nonprofit organization of individuals dedicated to the protection of Fairfax County's premier wetland wildlife sanctuary.
FOHMP was organized exclusively for charitable, scientific, and educational purposes and operates under Section 501(c)(3) of the Internal Revenue Code.
Monday Morning Birdwalk
The Monday Morning Bird Walk is sponsored by the Friends of Huntley Meadows Park and takes place every Monday at 7 a.m. April-September and 8 a.m. October-March. Following the walk, members of the group gather at the nearby Denny's for breakfast and to compile the morning's bird list. All are welcome.
Birders meet in the parking lot at the Park's entrance at 3701 Lockheed Blvd, Alexandria, VA. Questions should be directed to Park staff during normal business hours at (703) 768-2525.
Friends of Historic Huntley
Friends of Historic Huntley is a non-profit citizen group committed to working with the Fairfax County Park Authority to assure the preservation, restoration and appropriate use of Historic Huntley and to enhance the public's knowledge of the site and the broader historic development of the neighborhood.