Once Again, It's EMBARK Time!
By Cathy Ledec, President
We are lucky, indeed, to live in Fairfax County, Virginia. Federal (where applicable), state, and local government processes give us the opportunity to provide public input on development projects that come to our area, and on the processes and regulations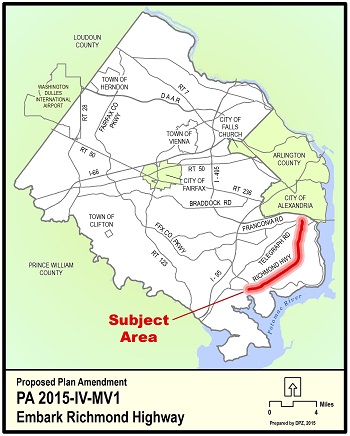 that prescribe how this work gets done. How can you find out about these requests for public input? Signing up for and reading nongovernmental organization (NGO) newsletters and "friending" your favorite NGOs on Facebook will give you access notices. Useful NGO's could include groups like Friends of Huntley Meadows Park (FOHMP), Friends of Historic Huntley (FOHH), Friends of Dyke Marsh, Audubon Society of Northern Virginia, Friends of Little Hunting Creek, Friends of Lake Accotink Park and others, where one or all of us is responding to a public comment/input request. It is up to each of us to take the initiative to respond with ideas and comments to improve these proposed projects and processes. My experiences with these public input processes tell me that our elected officials, who represent our interests, actively seek out our input through their Facebook pages or regular e-newsletters.
Action Item: Comments are needed now on the EMBARK Richmond Highway project from the general public - that means YOU!
---
Impacts to the Park
By Cathy Ledec, President of Friends of Huntley Meadows Park (FOHMP)
Two important Fairfax County project efforts are underway that you may, or may not, know about. The two projects I'm referring to are (1) EMBARK Richmond Highway and (2) the proposed Virginia Department of Transportation (VDOT) road widening between Napper Road and Jeff Todd Way. It is time for all of us to submit public comments so that we can positively influence these projects as they move through their planning phases. Friends of Huntley Meadows Park (FOHMP) is developing a position statement on both of these projects. Our goal is to protect Huntley Meadows Park (HMP) from negative environmental and historic impacts of these project efforts.
Both projects may impact HMP directly and/or indirectly, and we are working hard to avoid and/or minimize these impacts. It is time for us to combine our voices and provide public input to the requisite processes. We hope you will consider submitting comments, attending the upcoming public meetings, and /or supporting us by expressing orally or in writing the need for balance and environmental protections, especially for Huntley Meadows Park. Remember, our natural resources need us to speak up for them to ensure that they will still be around for future generations to experience and enjoy.
---
Monday Morning Bird Walk
By Harry Glasgow
Those who look at nature in a sort of sentimental, Disneyish way are often shattered when they witness some of the harsh realities of the actual world. More than once, I've tried to comfort people who watched a Hawk swoop down on their bird feeder, grab one of "their" Chickadees, and then calmly tear it apart in their yard. They are devastated by this ruthlessness.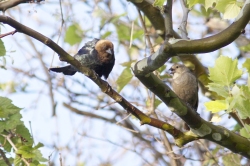 The previous edition of this newsletter contained a bit about brood parasitism, another fact of nature that some find appalling. Brood parasites lay their eggs in the nests of other birds, and do not provide any parental care for their own offspring. Care that the "hosts" provide to the young parasites is care denied to their own young. This can have a detrimental effect on the reproductive success of the hosts and may affect their population numbers as a consequence.
If we can look at these occurrences without judging them by human social conventions, and instead see them as an integral part of nature, our joy of being outside will grow. However you perceive the creation of our world, what has developed is a natural outcome of that creation. The Hawk taking the Chickadee is an expression of the natural world. The Hawk has to eat, too. And its diet includes Chickadees. The nest parasitism discussed in our last newsletter is also a natural behavior for some species. The nest parasites we encounter in North America are usually Brown-headed Cowbirds. Parasitism by Cowbirds is increasing and has been reported as high as 70% (i.e., 70% of found parasitized nests had Cowbird eggs in them). The main reason for this increase is probably habitat fragmentation.
---
Where Does My Contribution Go?
The Friends of Huntley Meadows Park supports a wide range of programs throughout the Park. Your membership dues and donations are critical to the success of our organization.
Some items we fund(ed):
Educate the public and the Fairfax County Park Authority on the impacts of Dominion Virginia Power's proposed changes to the easement at the south boundary of the Park. (See page 2 for details.)
Creation of Huntley Meadows Patches, now on sale in the Norma Hoffman Visitor Center (VC) gift shop.
Scholarships to support three interns for the summer of 2016. These interns will complete much needed programing projects. But most importantly they will assist Staff during day camps that educate and enter-tain our next generation of naturalist and environmental stewards.
Environmental protection apprentice who will study with Park experts to learn best practices for wetland, forest, and meadow management.
Quarterly newsletter to keep our 450+ members up-to-date on what is happening at the Park. Newsletter expenses have fallen with our "GO GREEN" initiative to provide more newsletters by email.
Printing of various Park brochures and the frog stickers that adorn so many young visitors.
Specialized training for Staff. This is usually several thousand dollars annually.
School trips for schools throughout Fairfax County and neighboring counties. Kids are our very best ambassadors - we hear from many visitors that their kids visited on a school field trip and wanted to come back to show their families what a special place Huntley Meadows Park is.
A donation to the Raptor Conservancy, one of our biggest entertainers on Wetlands Awareness Day. The contribution is used to feed and care for beautiful birds of prey that can no longer live in the wild.
Generate merchandise to sell in the Visitor Center gift shop, e.g., hats, shirts, magnets, and lapel pins.
Purchase of tools, and supplies for trail restoration, planting, invasive removal, and field studies.
Production of the annual photography show, which celebrates local photographers and their work snapped at the Park.
An ad for FOHMP in the playbill for West Potomac High School's production of Starlight Express. West Potomac students help us each spring with watershed cleanups.
Who We Are
The Friends of Huntley Meadows Park was founded in 1985 and is a nonprofit organization of individuals dedicated to the protection of Fairfax County's premier wetland wildlife sanctuary.
FOHMP was organized exclusively for charitable, scientific, and educational purposes and operates under Section 501(c)(3) of the Internal Revenue Code.
Monday Morning Birdwalk
The Monday Birdwalk takes place every week, rain or shine, at 7 AM, is free of charge, requires no reservation, and is open to all. Birders meet in the parking lot at the Park's entrance at 3701 Lockheed Blvd, Alexandria, VA. Questions should be directed to Park staff during normal business hours at (703) 768-2525.
Friends of Historic Huntley
Friends of Historic Huntley is a non-profit citizen group committed to working with the Fairfax County Park Authority to assure the preservation, restoration and appropriate use of Historic Huntley and to enhance the public's knowledge of the site and the broader historic development of the neighborhood.
Join Us for Wetlands Awareness Day!
Sunday, May 6th, Noon-4:00PM
FREE
Bring the entire family to the Park to enjoy an active, colorful afternoon with live animals, Park history presentations, nature activities, and family fun. Learn all about wetland ecology, local natural history, and the importance of our wetlands.