Dominion Virginia Power Project Update
continued from pg. 1


Lowering the poles also reduces, though does not entirely eliminate, the potential risk for bird collisions with the top grounding wire. We also agreed on certain requirements for a bird monitoring project in the project area. Dominion and FOHMP agreed that if these criteria are met within the agreed timeframe, Dominion will install, as a cost of the rebuild project, bird flight diverters along the entire rebuild section of the transmission line within HMP. If the agreement criteria are met, Dominion would also pay for a monitoring program to report on bird fatalities along the easement, and will publicly disclose data related to any such study.
We also asked, and Dominion agreed, that concrete washouts for the Rebuild Project utilizing the 100-Foot Structure option will utilize leak proof matting under the concrete washout pit to prevent all concrete residue from leaching into the soil or surface or subsurface water. This is required under EPA Stormwater Best Management Practice: Concrete Washout Document, EPA 833-F-11-006 (Feb. 2012), but it is important to remind everyone of the need to work with great care in this very sensitive conservation area. This restatement of the EPA requirement accomplishes that. The concrete washout areas will be on Fairfax County Park Authority property (though not on HMP property).
Dominion agreed to prepare revised detailed alignment sheets showing the power pole base locations with respect
to the location of wetlands, rare plants and the George Washington Boundary ditches for use by Dominion project staff and contractors. In addition, Dominion will identify on site "no -go zones" (areas to be avoided and marked as such to alert contractors by some type of on-the-ground marking). Dominion agreed to prepare (or have prepared) a detailed analysis of historic resources, which would include detailed mapping, document research, and historic plat analysis, in particular of the George Washington boundary ditches in a specifically defined portion of the easement area. This detailed analysis will be completed before any rebuild work for the 100-foot structure option in the noted area within the easement is undertaken by Dominion. We thank Dominion for agreeing to these improvements to the Rebuild Project.
I would be remiss to not share with you that many hours, in fact many hundreds of hours, were spent researching current technical material, consulting with experts, preparing testimony, responding to questions, submitting testimony, copying documents, preparing more testimony, and all of this under very tight deadlines. My hope is that others who are faced with the daunting and intimidating task of challenging a large utility company that you will know that we were there once too. We leaned on each other and you can lean on us knowing that we support your efforts to protect the natural, cultural, historical and archaeological resources that might be gone forever without your efforts.
My deepest expression of thanks goes to our team members, Diane Donley (our attorney),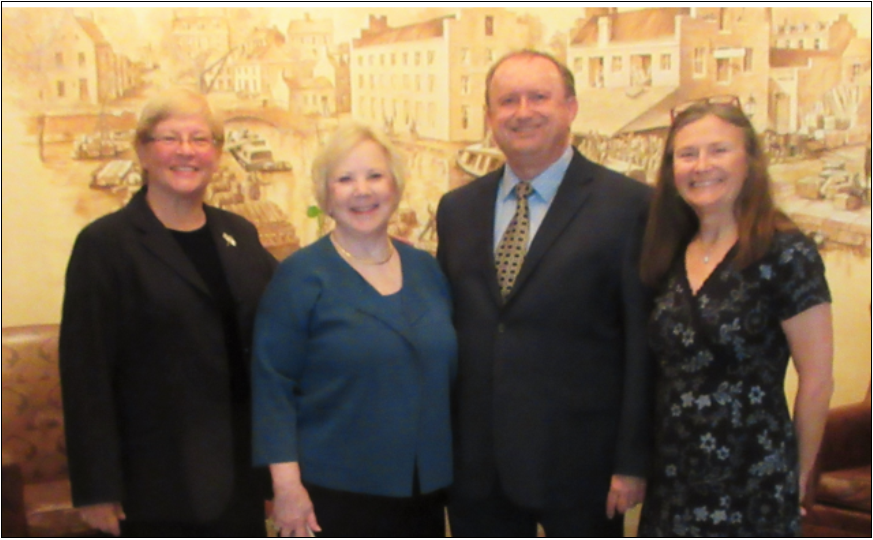 Todi Carnes (President, FOHH), Carolyn Gamble (Board member, FOHH), and all members of the FOHMP and FOHH Boards of Directors. A special thanks to George Ledec who provided significant technical advice and guidance throughout this project. Diane Donley, our attorney, is a treasure beyond measure. Words cannot express how grateful we are for Diane's legal guidance and direction, and the commitment shown by her to this project. Diane donated many hours of her time, and we thank her for putting up with us as we stumbled our way through the Virginia State Corporation Commission's regulatory process.


We also thank our friends throughout Fairfax County (and beyond) who provided written comments to the State Corporation Commission (SCC). These comments were heard and this positive, precedent-setting result is partly because of you. Remember when you walk on the trails at HMP and hear the wind whistling through the trees, the frogs croaking, the birds singing, the bees and other insects buzzing, know that these sounds are nature's way of thanking you for protecting her.
I look forward to seeing you on the trails!